LVDS SECURITY SERVICES (PTY) Ltd is a dynamic and vibrant, South

African based, People & Asset Protection company, situated in George in

the heart of the Garden Route.

Founded in 2012 by CEO Lourens Van Der Spuy, the company and its

team provide clients with exceptional & personalised service by means

of an Owner-Driven and hands-on approach by Lourens Van Der Spuy

and his hand-picked Management and Supervisory Team and Staff.

The success of LVDS Security Services is derived from the fact that the

owner and core management team are of exceptional calibre and they

are always willing to go the extra mile. The LVDS Team possess vast

knowledge and experience within the Security Guarding, Emergency

and Risk Management, Loss Control, Security Training, Occupational

Health & Safety, Armed/Rapid Response, Electronic Security and

Surveillance, Client Relations Management & Retail Industries.

In addition, the core management team have their foundation from the

Military and Police background with Training, Operational, Investigative,

Covert Operations and People Management as specialities, to mention

but a few.

LVDS Security Services prides itself in providing advanced and

integrated effective security services & solutions according to the

requirements and needs determined by each individual customer and

finds itself in a favourable position to provide innovative and professional,

yet affordable, practical, sustainable and quality advice, products &

service for all clientele to benefit from.

The focus since inception is to continually strive for excellence and

provide exceptional contributions to customer service for all customers
| | | | |
| --- | --- | --- | --- |
| | | | |
| | | | |
| | | | CCTV Remote Off-Site Monitoring |
| | | | |
| | | | |
| | | | |

| | |
| --- | --- |
| SOS-HelpMe Intelligent Cellphone Panic Assist | Accredited Agent | |
Find Us Here
Office | Control Room : +27 44 873 3181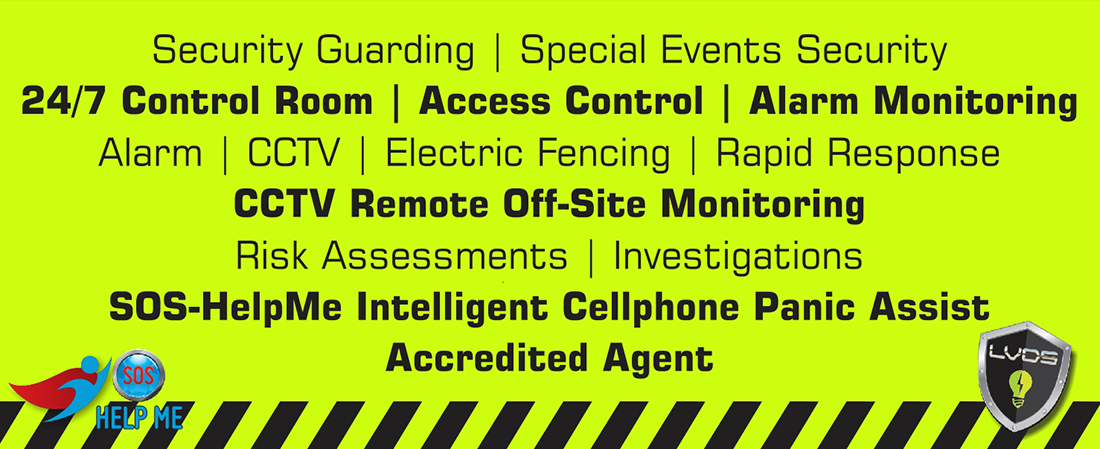 Welcome to LVDS Security Services
LVDS SECURITY SERVICES (PTY) Ltd is a dynamic and vibrant, South African based, People & Asset Protection company, situated in George in the heart of the Garden Route.
Founded in 2012 by CEO Lourens Van Der Spuy, the company and its team provide clients with exceptional & personalised service by means of an Owner-Driven and hands-on approach by Lourens Van Der Spuy and his hand-picked Management and Supervisory Team and Staff.
The success of LVDS Security Services is derived from the fact that the owner and core management team are of exceptional calibre and they are always willing to go the extra mile. The LVDS Team possess vast knowledge and experience within the Security Guarding, Emergency and Risk Management, Loss Control, Security Training, Occupational Health & Safety, Armed/Rapid Response, Electronic Security and Surveillance, Client Relations Management & Retail Industries.
In addition, the core management team have their foundation from the Military and Police background with Training, Operational, Investigative, Covert Operations and People Management as specialities, to mention but a few.
LVDS Security Services prides itself in providing advanced and integrated effective security services & solutions according to the requirements and needs determined by each individual customer and finds itself in a favourable position to provide innovative and professional, yet affordable, practical, sustainable and quality advice, products & service for all clientele to benefit from.
The focus since inception is to continually strive for excellence and provide exceptional contributions to customer service for all customers

LVDS SECURITY SERVICES (PTY) Ltd is the Garden Route Accredited Agent for SOS-HelpMe Intelligent Panic Assist